There have been alot going on around here lately, nothing exciting...except that we got a little gray kitten. finally@!!! I have been on the search for this little guy for months. All gray is the only color of cat it seems I have not had, and I wanted one really bad. It took me about 3 mo. to even find an all gray one. They seem to be the unicorn of kittens right now. We found him 2.5 hours from home in a shelter with 2other brothers. We love him so much, we named him Grayson.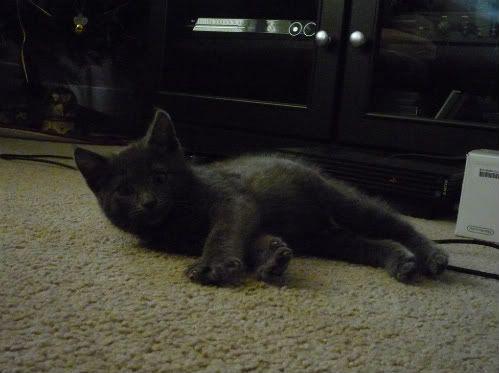 The kids got the Wii they wanted for xmas and we have all had a blast with it. We owned no gaming systems before this and I am so glad "Santa" decided on this one and not any others.
Ive been busy hanging with friends and kids and working.
Still have not been bit by the crafting bug again. I know what hinders me most is not having a place to have it all out so Im able to see what I have. Plus if i start something, it's out till i finish it, all up on my dining room table, i hate that. Hope you all had a wonderful holiday.