Liquid Glass!! Well, for Stampin Up ppl it is called Crystal Effects, The Angel Co. calls it 3D Crystal Lacquer and CTMH calls it Liquid Glass. Another name for it is Diamond Glaze. Whatever you call it, it is cool! I never had alot of use for it before. I had a bottle from SU for years before I really started using it. Now i love it! Not sure where my current obsession with it comes from..but oh well.
For those who have never heard of it, the bottle says it is a clear, dimensional embellishment. Dries to a clear, hard, glossy finish. You can get it through any of the stamp companies I mentioned above, or at Hobby Lobby. It is called Glossy Accents. I am sure you can get it other places too, but those are the one's I am most familier with. Now what can you do with it you ask??!
Here is a quick list of things you can do with Liquid Glass.
1. Adhere transparencies
2. Glue Metals and other heavy embellishments on card/page.
3. Make water droplets onto your flowers.
4. Make water droplet's on your pool pages to look like water or crying or for a "wet" look.
5. Sprinkle glitter on it when wet for a nice glitter effect.You can also use this technique after outlining a sticker, word, or stamped image in a thick layer of liquid glass and then adding the glitter. This will give you a nice raised glittery outline around the image.
6. Encase button's or letter stickers in a thick layer of liquid glass. It will look like an epoxy sticker!
7. Add a few drops of a re-inker to some liquid glass to use as colored paint.
Those are just a few ideas of things you can do with Liquid Glass. Here are two cards that I made using technique #3, #5, and #6.
I stamped the typewriter keys and then put a thick layer of liquid glass over them to give them that 3D look. Then I painted my F chipboard letter in green paint. After that dryed, I put a thin layer of liquid glass on my F and sprinkled it with glitter. You can see on that last picture that there is the "raised" effect on it.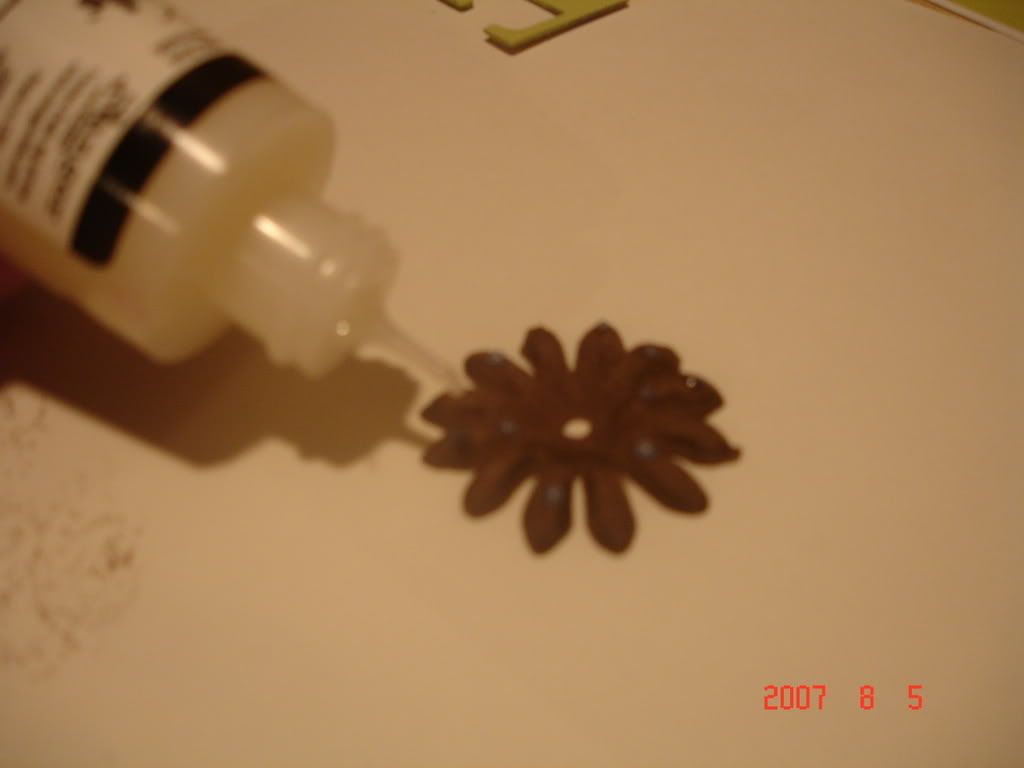 On the next card, I put little drops of liquid glass on my flower to look like dew drops.Im sorry you can't see the dew drops very well. I tried and tried to get a close up, but it just did not work. What do you think? Cute??
Hobby Lobby has a 40% off coupon this week if you will be near one this week. When I purchased my liquid glass, it was 5.99 there. Using the coupon will bring it down to 3.59!!! If nothing else, it really is a wonderful adhesive for embellishments and other small items!
Have a great week!