Had a talented

SU

friend show me this great little mini album so I just had to duplicate it. It is actually what I had my club make last month.
I could not find envelopes small enough, so I just bought bigger

envie's

and cut them down to fit. To make this you will need...
1 piece of solid

cardstock

4.5x12 inches long scored at 3 1/4, 6.5, 10, and 10 1/4.
3 pieces of sold

cardstock

(different color) 3x3.5
3 envelopes not quite 3 x 4 1/4
3 Pattern papers 2.5 x 4 1/2
1 strip of pattern paper 1 1/4 x 7 3/4 and score is at 2 1/4 and 5 3/4 and 6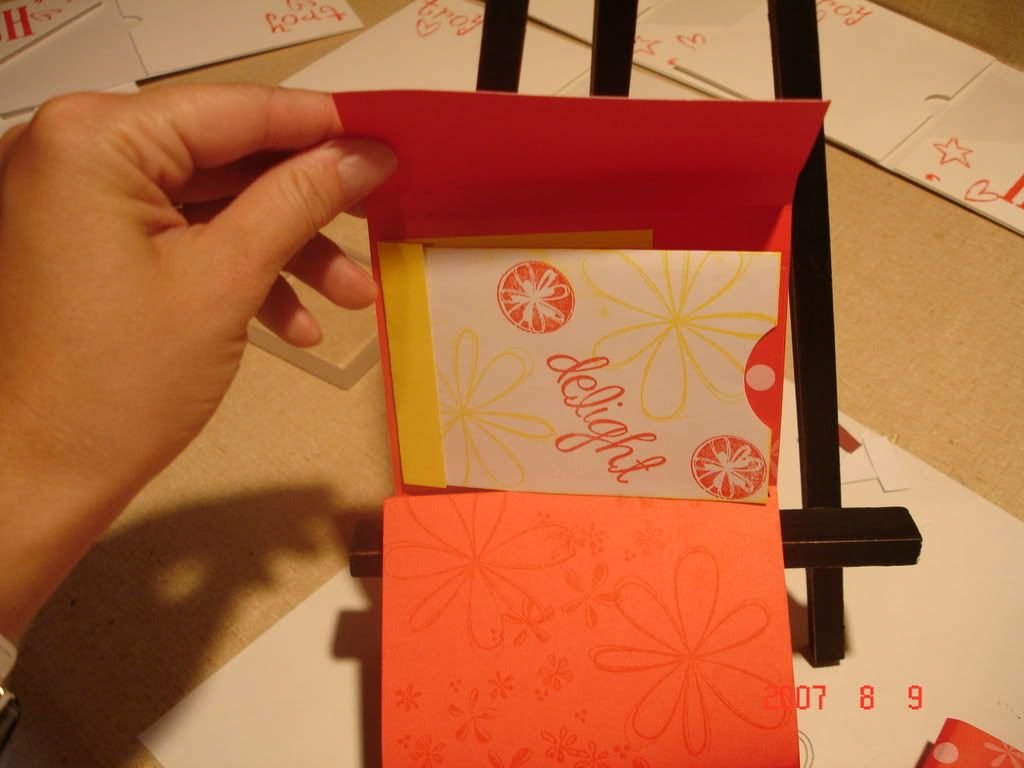 You can see how I put this together. First I stamped the

cardstock

. Then I stamped the envelopes. I layered the envelopes on the 3x3.5 piece of

cardstock

by folding the

cardstock

up one inch onto the envelope. I attached the envelope only to the one inch of

cardstock

then attached the rest of the 3x3.5

cardstock

to the large

cardstock

piece

in between

one of the scored

rectangles

.
Now, if that was not as clear as mud....
just attach the other three envy's the same way....attach your strip and if you want, a smaller saying to the front of the strip as I have done. Throw your pieces of pattern paper in the envies and now you are done. You can use them to display pictures,

journaling

...hold coupons..whatever.



Please email if you have any questions. Enjoy your day!